In this UseProof Review, We will walk through all the features that are necessary for getting conversions.
Do you want to increase leads, sales, signups, and overall conversions?
Then Proof app is for you.
Here is example what Proof look like,
Transparency is necessary for every online business this is why proof shows how many people have signed up, started a free trial, booked demo, and purchased in the last 24 hours or notification which shows how many people are currently viewing a product.
Proof personalized this notification based on who is actually on this site conversion will get exponentially increased.
This social proof notification shows the popularity and scarcity of your product to your site visitors. It influences other people to make similar decisions as your customers doing.
Think about it, 98% of visitors are leaving your site without taking action. That means for every 1000 visitors every 980 are leaving and haven't done anything on your website. Stop wasting time and money by converting the traffic you work so hard to get! With Proof, you can convert those website visitors with one easy click.
As the research found that a website using Proof 10-15% existing website visitors get converted. And the website without Proof abandoned those visitors.
As the research found that a website using Proof 10-15% existing site visitors get converted. And the website without Proof abandoned those visitors.

Tweet
In the last 12 months, Proof grown to 175k M. Talk about the website using proof happens to human psychology by showing their website visitors while others like them are doing on the site.
What is Social Proof?
Social Proof is a psychological and social phenomenon that our own behavior in attitude, action, belief that impact other peoples to take the decision.
Positive social proof influences us to buy a new good and trust in business while the negative proof is quite the opposite effect.
For example, have ever been more excited to try a new restaurant because you see it's busy and popular ever booked a hotel in booking.com because it was hot selling and you didn't want to miss those hot deals that are called social proof.
Social Proof marketing platform that highlights your proudest moments like sign-ups, purchases, and reviews as they happen turning your website into a busy and interesting place that compels buyer action just like booking.com does having proof (pulse) to your website could be game-changer in addition to your marketing strategy.
In real life, when we visit any shop where the most crowded place people think that it might be the best store to buy.
UseProof Review
Pulse helps online businesses increase leads and sales by displaying real social proof notifications.
Online businesses are always thinking of ways to make sales and some have trouble converting their website visitors. That's why they use Proof, a service that tracks how many people visit their site and shows the popularity of their products to the number of visitors viewing current pages.
pulse builds trust, positions brands as an authority, and gives the visitors fear of missing out on a great product.
UseProof review: Conversion Optimization Features
Hot Streaks
Hot streaks show the total number of visitors who have recently taken action on your site it might be last 1 hour, 12 hours, and 24 hours. Great for high traffic website pages such as content opt-ins, webinars registration, and free-trials.
Average conversion lift analyzed by useproof: 15-20%
Live Visitor Count.
Live visitors count shows the total number of people viewing a page or the whole site. Great for using offers with limited inventory such as a physical product with limited stocks, bookings, and event ticket sales page.
Pulse average conversion lift: 8-10%
Recent Activity
Recent Activity shows real-time social proof notification action taken just minutes ago. Fit for using high traffic on pages on your site such as homepage, content opt-ins, and webinar registrations. this feeds showing customer name with their location.
Pulse average conversion lift: 10%
A/B Testing Feature
Have you ever wondered why some variants outperform others? Well, now with UseProof's A/B testing feature, you can find out.
With this feature, not only do you get to view data from the current test but also have access to other variants' conversion analytics so that you can analyze which variant(A or B) gets the highest conversion lift!. You even get a beautiful dashboard showing all your conversion analytics data in one place.
A/B test analytics showing conversion rate, sales and visitors of variants.
Functionality of Pulse:
Easy to setup: Simply copy and paste the snippet of Pulse pixel into the header section of your site get ready to show social proof notifications.
Custom settings: You can customize campaign timing, position, and display rules in the sack of use.
Beautiful analytics: Your dashboard shows the true impact of Pulse on conversion lift increases leads and sales.
Zapier Integrations: send conversion event from your CMS via Zapier or a custom webhook.
Freaky fast load speed: Pulse's javaScript fast and lightweight loads after your website pages content loads first.
A/B testing: Split the percentages of traffic see the impact on conversion lift of using Pulse into your website.
Useproof's results:
As of October 2018, Pulse has over 15,000 websites that use their product. On average, websites that use Pulse see an increase of 10-15% in leads and customers. You can set up a split test inside Pulse to only show notifications to half your users.
Many online businesses noticed 10-15% of growth in their revenue after using Proof I mentioned below.
With over 15,000 sites (including Digital Marketer, Neil Patel, Drift, SamCart, Lawn Starter, foundr, speedo) that use Proof, you can imagine how diverse is proof.
Proof is ideal for using various online business categories:
Saas Companies
eCommerce(not on Shopify)
Webinars
Online courses
Membership sites
The biggest indication a user will be successful with Proof (Pulse) is if they have a large number of visitors to their site already. Ideally over 10k/mo or running paid traffic.
What are the top 5 pages to add Proof to boost conversions?
Proof test over 20,000+ customers to analyze which pages getting high conversion rates while using social proof marketing app. Here is the outcome of this experiment
A/B tests show Proof boost conversions 10-15%, but which pages are the most effective? After studying 20,000 customers, here are the top 5 pages to add Proof.
1. Landing pages get more leads and content downloads
Want to increase eBook downloads? This is Proof's bread and butter. Use the Hot Streaks notification to show the total number of people who have downloaded in the last 7 days.
1. Landing pages get more leads and content downloads
Want to increase eBook downloads? This is Proof's bread and butter. Use the Hot Streaks notification to show the total number of people who have downloaded in the last 7 days.
2. Registration pages get more RSVPs to webinars and events
The more people who RSVP to your webinar or event, the more social proof visitors see, which makes the page convert even higher. Proof turns your event registration into an RSVP frenzy.
Booking pages get more consultations and demos
Are you looking to get more people booking calls on your calendar? Proof is a perfect addition. Show recent people who have booked on your calendar in the last 24 hours.
Product pages get more purchases and add-to-carts.
Showing how many people are currently looking at the same product is powerful, especially when there is a limited supply. The Live Visitor Count notification is perfect for products that show the scarcity of inventory.
UseProof Review Pricing
Proof offers the most flexible plan for small-medium and big businesses. See the below table for Proof's pricing details.
Pricing depends on number of unique visitors / month visits on your website.
| | | |
| --- | --- | --- |
| unique visitors/month | Plans | Price/month |
| 1,000 | Basic | $29 |
| 10,000 | Pro | $79 |
| 50,000 | Business | $129 |
| 100,000 | Premium | $199 |
| 300,000 | Platinum | $299 |
| 350,000+ | Enterprise | Custom |
useproof review: pricing
All Plans Comes With a 14-day free trial
Features comparision with all plans:
Start your 14-day free trial proof today
Add Testimonials of famous people using proof
Integrate Pulse In Your Website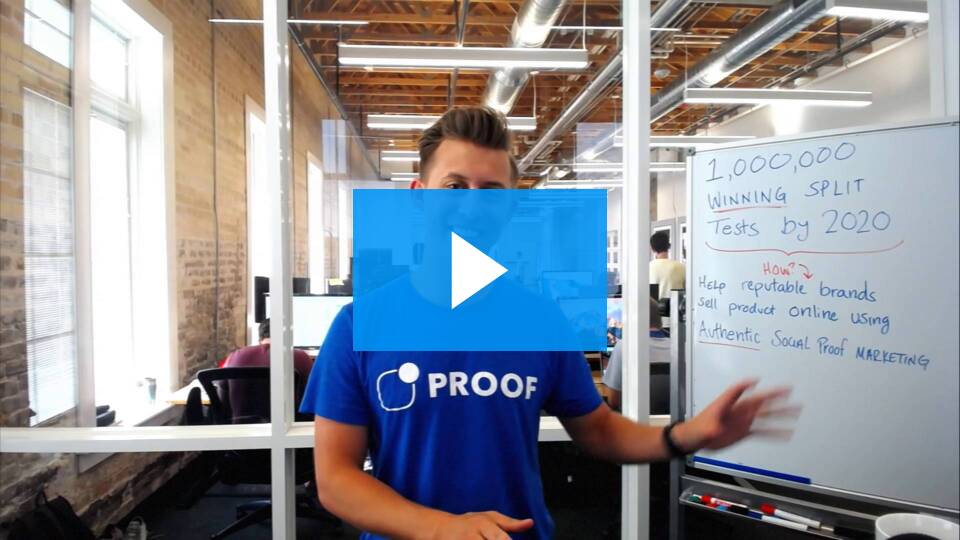 Conclusion – UseProof Review
The best way to increase conversions is by optimizing your website for the customer's brain. There are many tools out there that can help you do this, but in our opinion, UseProof is the best of them all. This software helps you to boost the conversion rate by 20-30% and it won't make up lost revenue from those who don't convert on their own accord. But if you want more leads and sales without having to invest too much time or money into it, then we recommend giving UseProof a try with its free trial offer.